II.
The paths that lead people to Soldierstone vary. Veterans have shared news of the stone artifact for years through word-of-mouth. For Mike Donelson, owner of Ark Valley Memorial, it began in 1990 when a U.S. Army veteran walked through the front door of his shop in Rocky Ford, Colorado.
"He had in mind it was going to be done," said Donelson. "You could tell this wasn't just something he'd just thought about and thought it might be nice to do someday."
Retired U.S. Army Lieutenant Colonel Stuart Allen Beckley lived in Texas, but owned property near Westcliffe, Colorado.
He made a career in the U.S. Army during the Vietnam War era. According to his family, he did some Special Forces work and trained Thai armed forces in counterinsurgency methods. He also spent time in Laos, eventually retiring in 1972.
When Beckley first approached Donelson, his plan was to erect "a small memorial project" honoring "unremembered friends from our Indochina experience." His name was to not appear anywhere in association with it.
The intent was to offer tribute from American soldiers to forgotten soldiers from "Vietnam, Laos, Cambodia, the Hmong, the Montagnard Tribes of Central Vietnam, the Koreans, Thais, French, Germans, Slavs, North Africans, Black Africans and others of all religions and persuasions who were willingly or unwillingly expended during the long wars lost in hopes, proud and vain, for the people of Indochina, 1945 through 1975."
But the exact experiences that drove Beckley to create Soldierstone are still a mystery to Donelson.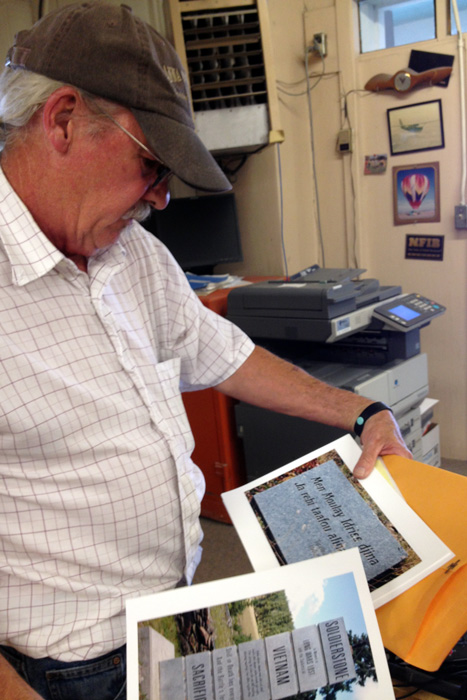 Grace Hood/KUNC
"I always had the feeling that he had remorse - some things that were eating in his gut that I know had to have happened in Vietnam with his men," said Donelson. "There's a lot of stuff, because he was a [lieutenant] colonel, was revealed on a need-to-know basis."
In 1990, Beckley launched a lengthy correspondence that lasted nearly five years until it was built.
Beckley was a prolific letter writer and planner who had a clear sense of what he wanted. Donelson was a hard-working stonecutter who saw Beckley's dedication to build it. He asked his customer to pay only for materials, not time and labor.
The process started with purchasing 15 300-pound gray stones the size of large tombstones. Before the days of computer generated imaging, quotes were selected, translated into foreign languages and verified by Beckley. Donelson and his assistant sandblasted everything by hand.
"Are you charging enough for your work?" Beckley asked in a letter dated September 1993. "I am sure that some of these stones took considerable more time/effort than you envisioned in your estimate."
Donelson brushed off the suggestions of taking more pay.
As Donelson inscribed the stones, Beckley took trips to Colorado to scout out the location for Soldierstone. The first spot, private property he owned in Westcliffe, was considered but ultimately dismissed.
Then another frontrunner appeared.
"I plan to spend a week aggressively scouting the Colorado Trail along the Continental Divide for a National Forest site," Beckley wrote in 1994. "With that found, I will begin the battle for sanction to place the memorial there. My Colorado land is held in reserve should I not gain permission to place it in the high Rockies, or should I die before we get installation approval."
By 1995 Beckley had discovered he had cancer and was undergoing chemotherapy treatments. In a letter pleading to U.S. Forest Service officials, he wrote he wanted "no publicity, no open congressional hearing and no media involvement. It is to be American soldiers' anonymous tribute to forgotten soldiers."
In 1995, the Forest Service green-lighted the plan, and gave a nod to Beckley's intentions to keep a low profile for the memorial.
"The first [concern] was for the potential for lots of publicity which could lead to a second concern which was the impacts of large numbers of people on a somewhat fragile subalpine site," wrote the U.S. Forest Service in 2000 to an inquiring California congressman. "Ultimately these concerns were allayed by Colonel Beckley and the unique project."